FUNKY BLACKSON'S JIVE
Y'all come in and scope out Funky B's place. This is the guide to FUNK MUSIC.

The funk grooves started in the '60s but were most prevelant during the '70s. Cats of all kind make the funk, and there are different purposes for making the funk. One thing is almost always the same though--you can get down with any funk song.
Sly and the Family Stone were the original funksters. Sly is one crazy dude, but his brand of soul-funk was extremely groovable. The Man won't allow no Funk Hall of Fame and Museum for all the brothers who made the seventies more grooveable for brothers, but this place will do for Sly and his gang for now.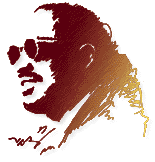 Another brother that was real hip to the soul-funk grooves was Stevie Wonder. This brother funked songs diggin' with love, personal achievment and when he's seriousing, political statements. These political statements usually jive about brothers' social conditions, and oppression by the Man. Funky B. ain't sure why, but Stevie don't have much on the web. Funky did find him here, and rightfully so.

George Clinton, "the Supreme Maggot Minister of Funkadelia" had his own style of Funk. Clinton and his groups Funkadelic and Parliament, or sometimes know as P-Funk grooved with an acid rock beat. Their sound was much harsher and heavier than most any other kind of funk. But of course, their style of Funk was grooveable.
Herbie Hancock has been makin' funk-jazz grooves since the '60s. This cat is the master of the white ivories (ya' dig?), especially electric piano. His infamous funk-jazz album, Headhunters, moves with traditional jazz improvisation, and grooves with the funk sound. Also, it is the best selling jazz album ever. He funkifies with many other albums and is still recording.

Funky B. will be bringing more groove cats to y'all, and they're all funky as Bootsy. So just chill tight, baby.
LINKS
I soon as Funky B. finds some links that are funky enough for this page, he'll put 'em here.
Listen, baby. Funky B. ain't got nothin' to do with these adds below, so just ignore 'em.